The Lifeline Adventure Series compels you to get out there and explore. The Lifeline Adventure Handlebar Bag provides you with extra space for stashing overnight essentials, conveniently packing between your drops.
We like to ride our bikes and we like to explore. We believe you don't need to pay over the odds for the privilege and so we created the Lifeline Adventure Series of bags- maximizing quality and design at a sensible price.
The bags are made from a Lightweight 300D Polyester Ripstop with TPU coating and feature a fully welded construction.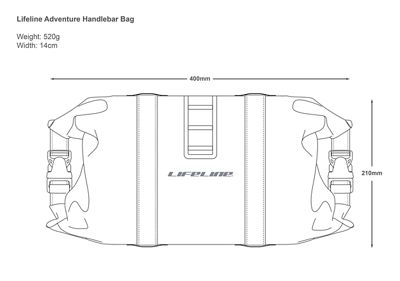 The Adventure Handlebar Bag has two straps that mount to the handlebar that hold it securely in place whether your riding on the tarmac or on the trail.
The bag unrolls from both ends providing easy access off the bike. Boasting an 11-liter volume and maximum 74cm width the bag provides extra storage for extended trips.
Webbing on the top and down the front of the bag provides an ideal mount point for lights or other bits that join the adventure.
We packed ours with camping food and a lightweight stove.
Read More